An Authentic 1-Day Experiecnce With Local Herders
A special opportunity! Visit a community of herders, established in 2008, for the conservation of nature. Their primary income is from their dairy cows. While there, you will see and participate in several of their daily activities.
Participate in and learn from several daily activities
Having milked the cows at 6am, Sersmaa and Otgon will be boiling milk and making yogurt, dried cheese, wet cheese, sweet cream, & aaruul.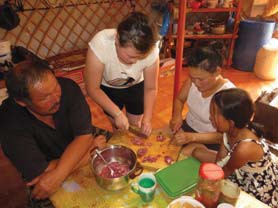 Orkhon and Uuganbayar will enable you to experience making and eating a traditional mid- day meal.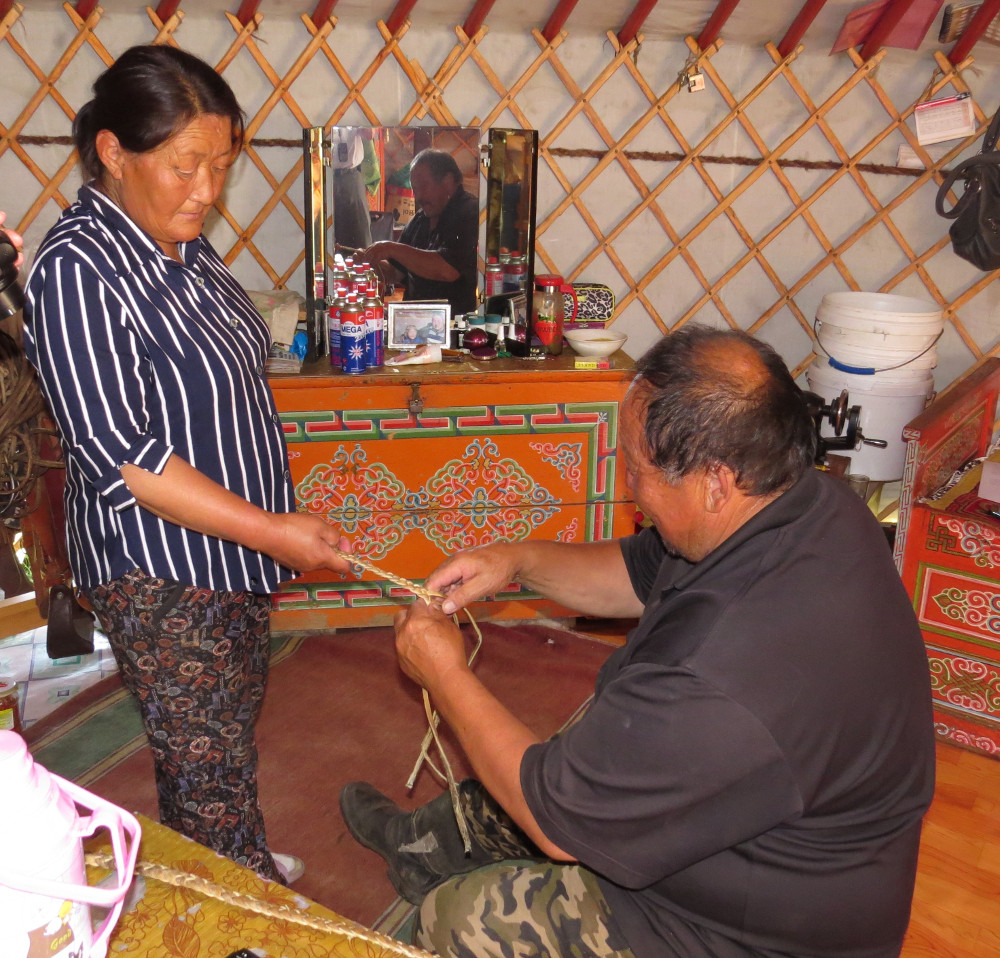 Davaasuren will welcome you to her ger where you will learn how Yadmaa processes animal hides and makes everyday items he uses with his horses.
Orkhon and Uuganbayar will enable you to experience making...
...and eating a traditional mid- day meal.
Walk with one of the community members to see the place where the sheep and goats live in winter and discover how this shelter enables them to survive at 30 or 40 degrees below zero.
See where milk is "refrigerated" in the creek during the summer time.
Enjoy traditional songs...
...and music played on traditional instruments...
...like horsehead fiddles.
Learn about the traditions and equipment used for archery.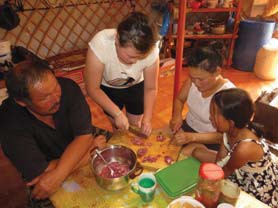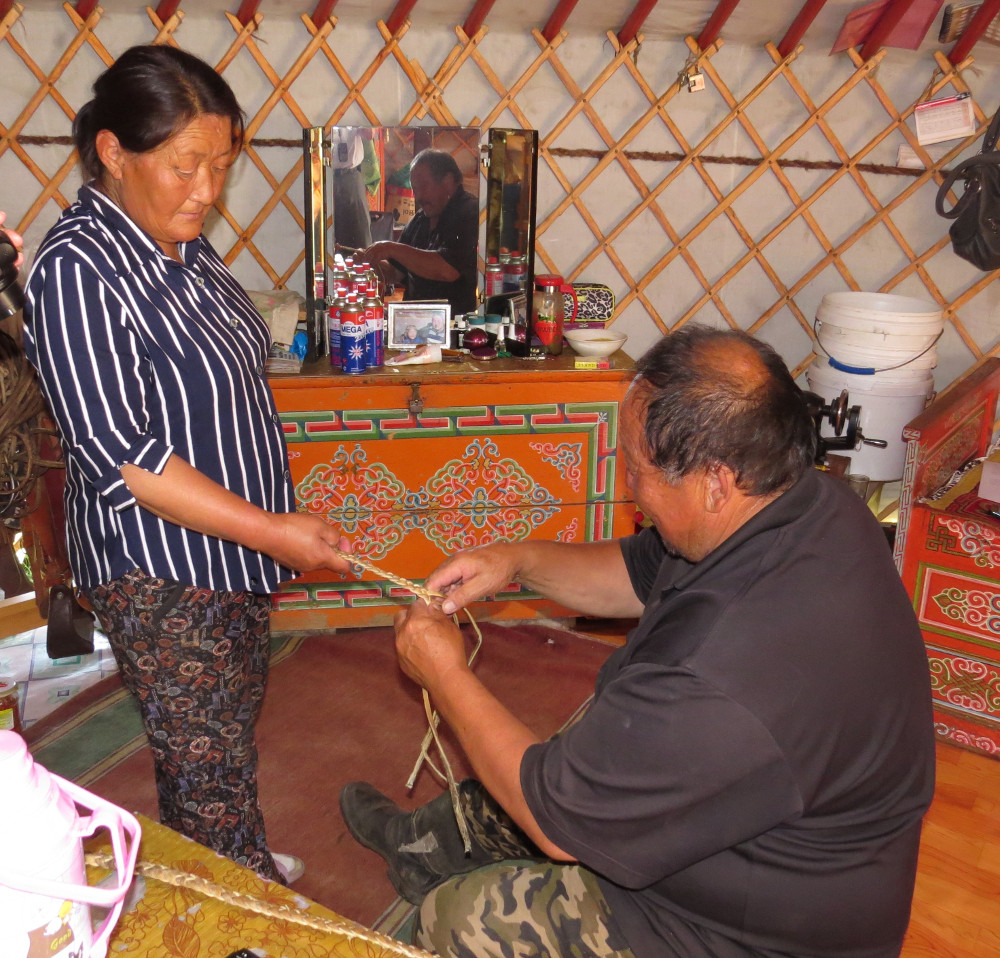 Length of Experience
1 day, departing Ulaanbaatar 9am and returning by about 5:30pm
Location and Transportation
The Darkhit Valley Community is about 2 hours east/northeast of Ulaanbaatar, near Gorkhi-Terelj National Park. Transportation to/from the community will be provided by the sponsoring organization.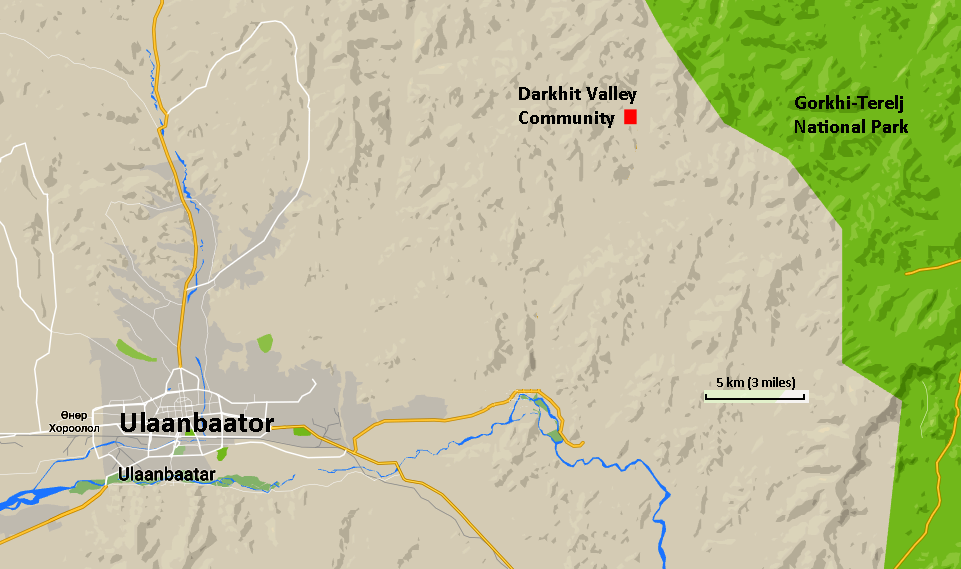 Fee
70,000 MNT/participant includes community activities, bottled drinking water, and a mid-day meal. Proceeds will go to the herder community to supplement their incomes and build a community fund for conservation activities. A small administrative/coordination fee will go to NNC.
Group Size
Minimum of 2 participants; Maximum of 7 participants.
Optional Activities
These activities may be arranged, weather permitting, for an additional fee (as indicated):
Participate with members of the community in building a ger. 60,000 MNT for a group of 1 to 7 people. (This can only be done when there is no rain and no wind.)
OR
Explore the hillsides and forest by hiking or riding horses up to 2 hours. 25,000MNT/person. (Horse riding is not possible with rain.)
To arrange your visit...
Contact Tungalagtuya Khuukhenduu, Program Director, Nomadic Nature Conservation, Mongolia by e-mail at tungaa@nnc-mongolia.org